There's something about a label that says "Made in America." A product that is designed, crafted, and produced in America typically indicates a certain level of craftsmanship and commitment to quality and ethical manufacturing. There are no cities more American than Rochester, NY. It's a creative, time-tested, enduring city where people are known for their hard work, grit, and heart. And while often noted for its blue-collar roots, Rochester is unique as a cultural hub for arts organizations and craftsmen alike. At Rhino Trunk and Case, we're proud to have been founded, established, and operating exclusively in Rochester for nearly 20 years. Every Rhino trunk on the market has been designed, engineered, hand crafted, and distributed entirely from the Rhino Trunk manufacturing facility in Rochester.
Bringing Magic to Rochester
In honoring our local roots, we were thrilled to partner with a true Rochester institution—the Rochester Philharmonic Orchestra—as it celebrated its highly anticipated Harry Potter and the Prisoner of Azkaban™ in Concert. Excited fans lined up for the concert both nights of the showing, ready to see Harry and his friends soar across the screen while accompanied by the music of a live symphony orchestra. This concert series has been so popular since it started with the franchise's first two films that the Rochester Philharmonic Orchestra has already announced Harry Potter and the Goblet of Fire™ in Concert for September 2020 and Harry Potter and the Order of the Phoenix™ in Concert for March 2021.
Before the show, fans had the opportunity to enter their names for a raffle to win Rhino's official HARRY POTTER™ trunk, which is sold exclusively at Pottery Barn Teen.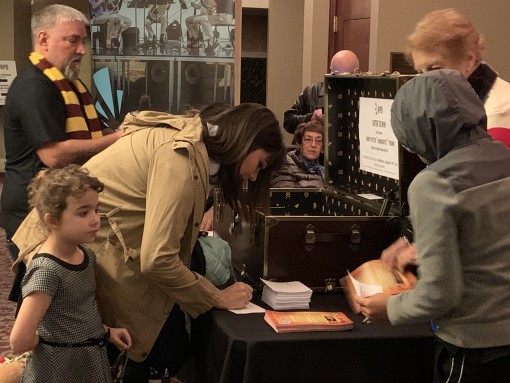 The buzz was unmistakable. We loved seeing lines of people at the show form for a chance to be entered into the drawing for the HARRY POTTER™ trunk. Next to the display of the trunk was a Hogwarts backdrop for photos so concertgoers had a chance to truly feel what it was like to be headed to the school of witchcraft and wizardry.
The Trunk a Wizard Would Want
As with any trunk deserving of the Rhino name, the HARRY POTTER™ trunk is second-to-none in quality construction and craftsmanship. With painstaking attention to detail—five stunning colors to choose from, an antique-brass trim finish, and elaborate emblems and house crests set in UV and gold metallic ink—these trunks are designed to look like the ones Hogwarts students would find lining Diagon Alley storefronts.
A fun YouTube review of the HARRY POTTER™ trunk just surfaced recently, raving about the trunk's quality and authenticity to the magical world. "I definitely would give this trunk an A+," says the reviewer. "It is a very large trunk; it is very hefty, sturdy. Overall, a high-quality piece . . . The size alone makes it worth the purchase. It's one of the bigger trunks I've ever seen, and it can fit so much inside, while at the same time making your whole room feel so magical like you're just about to head off to Hogwarts. I absolutely love it."
In making the HARRY POTTER™ trunk for Pottery Barn Teen, our goal was to design the trunk Harry himself would want to use to protect and transport his most beloved magical treasures. Just as wizards need top-quality trunks to endure and adapt to a host of adventures, we know that muggles also need solid, superior trunks that serve a multitude of purposes at once—like magic.
And we're honored that the official HARRY POTTER™ trunk could have a place at one of the most talked-about annual concerts for our very own Rochester Philharmonic Orchestra.
HARRY POTTER characters, names and related indicia are © & ™ Warner Bros. Entertainment Inc. Harry Potter Publishing Rights © JKR. (s20)