RHINO Custom Solutions
Give us the concept, and we'll bring it to life.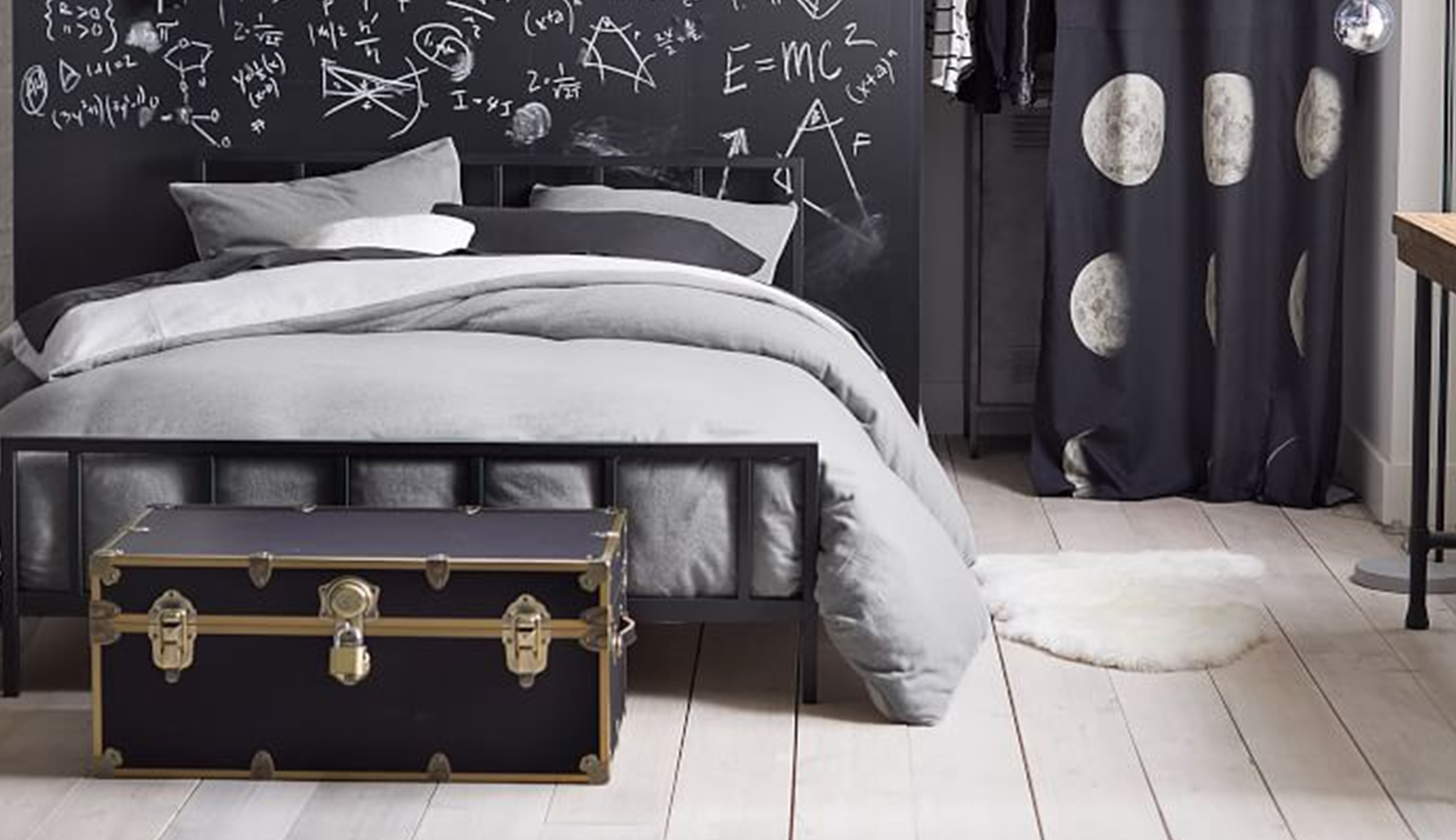 Sometimes what you're looking for just doesn't exist. Yet.
At Rhino, we pride ourselves in our ability to deliver top quality, innovative custom trunks and cases. Today more than ever, companies are trying to cut through the clutter of social media to grab attention, be seen, and make a lasting impression. Maybe you need a trunk with specialized hardware, a unique fabric, or a particular finish. Maybe you need a logo, name, or message emblazoned on it. Or maybe you need to create an unforgettable presentation that incorporates effects such as lighting, audio, graphics, and storytelling. Whatever you can dream up, we can make happen. Our team of experts will work collaboratively with you to create exactly what you're looking for—and what you won't find anywhere else.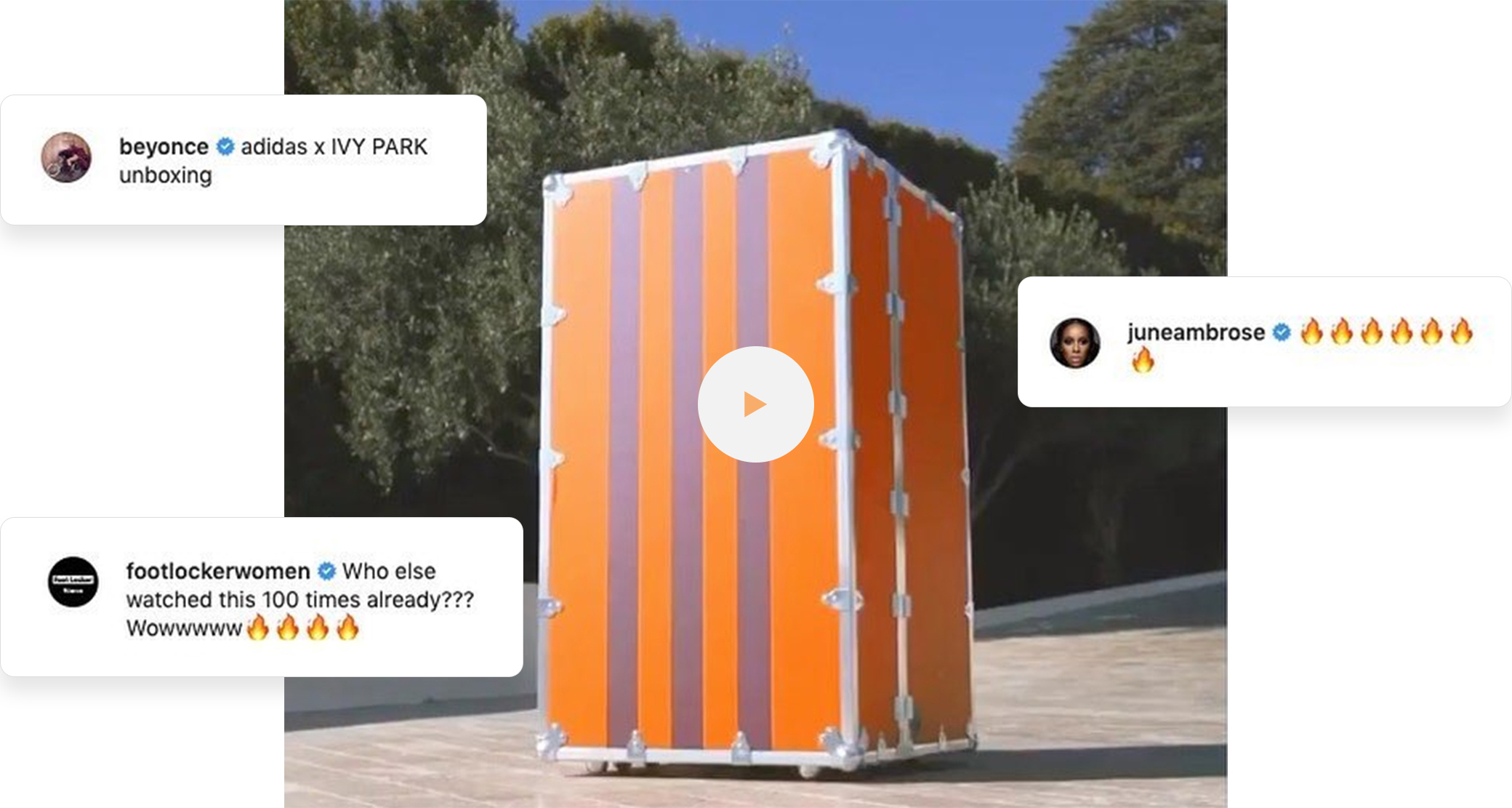 The Challenge – To create a social media wardrobe "unboxing" worthy of the Queen. In early 2020, the hype surrounding Beyoncé's new adidas x IVY PARK launch was soaring, and she and her team needed a presentation unlike any other. The client's goal was to send out wardrobes of clothing and accessories from her new line to celebrity friends and influencers to create a universal unboxing event that would take social media by storm. Project timeline: 7 weeks.
The Solution – Our team of design experts collaborated closely with Kamp Grizzly, a creative agency in Portland, Oregon. With innovation and painstaking attention to detail, Rhino exclusively handcrafted 38 unique wardrobe trunks for adidas x IVY PARK. They were constructed completely to the client's specifications for an unboxing unlike anything the world had ever seen before.
Coveted clothing items from Beyoncé's new line were front and center in a prominent, face-out display as soon as the wardrobe trunks were opened. Footwear and accessories filled a full-size drawer—the same size as you would have in a fine dresser at home. Sporting the client's brand colors—a vibrant orange and maroon with the iconic adidas stripes—the trunks looked striking and unforgettable. The adidas x IVY PARK logo was prominently printed on the interior walls. There was no mistaking it—these wardrobe trunks came straight from the Queen herself.
The custom wardrobe trunks made it to the homes of such celebrities as Issa Rae, Diplo, Janelle Monae, Eniko Hart, Keke Palmer, Missy Elliott, Lala Anthony, June Ambrose, Anderson Paak, and Summer Hope Chamblin. Each celebrity posted their own celebration with the deliveries—marveling at the wardrobe trunk and its contents, trying on new clothing pieces, and popping out of the trunks in surprise. Beyoncé's presentation and custom wardrobe trunks garnered more than 6.5 million views and engagements on social media. Perhaps the most important result was that all the clothing launched through this promotion sold out within hours on the IVY PARK website. Mission accomplished!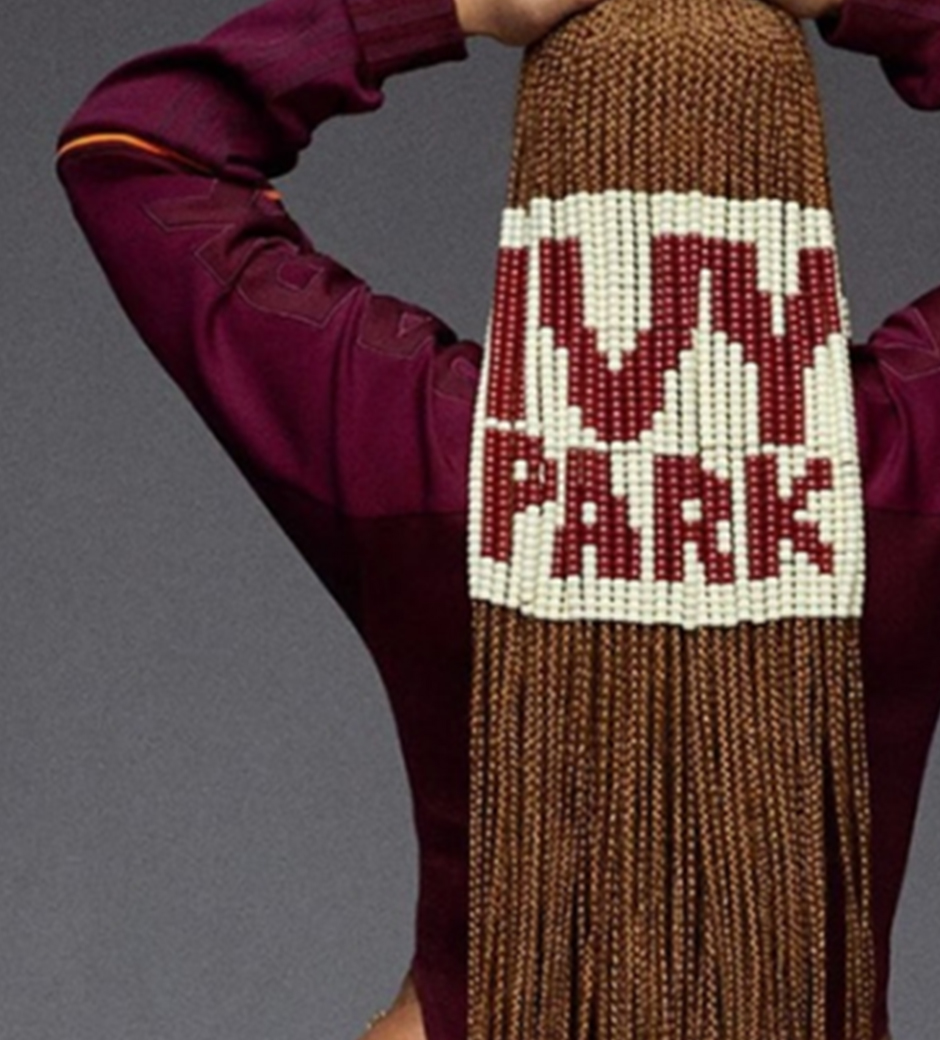 The Challenge – To leverage Pottery Barn's Harry Potter™ license by creating high-quality, official Harry Potter™ trunks exclusively for Pottery Barn Teen. The goal was to design five unique trunks representing Hogwarts™ and each of the school's houses, with space and functionality to fit the student's or young adult's lifestyle. Project timeline: 10 months.
The Solution – We worked with the client's unique goals and specifications to design trunks that are worthy of both the Rhino and Harry Potter™ names. Keeping the target audience in mind, while also honoring the look and feel of an official Harry Potter™ collector's piece, we produced stunning storage trunks for all four Hogwarts™ houses—Gryffindor™, Slytherin™, Ravenclaw™, and Hufflepuff™—along with a classic Hogwarts™ trunk. Each is fitted with antique-brass hardware and trim finish, as well as elaborate crests set in UV gold ink. The trunks were designed to look just like the ones Hogwarts™ students would find lining Diagon Alley storefronts.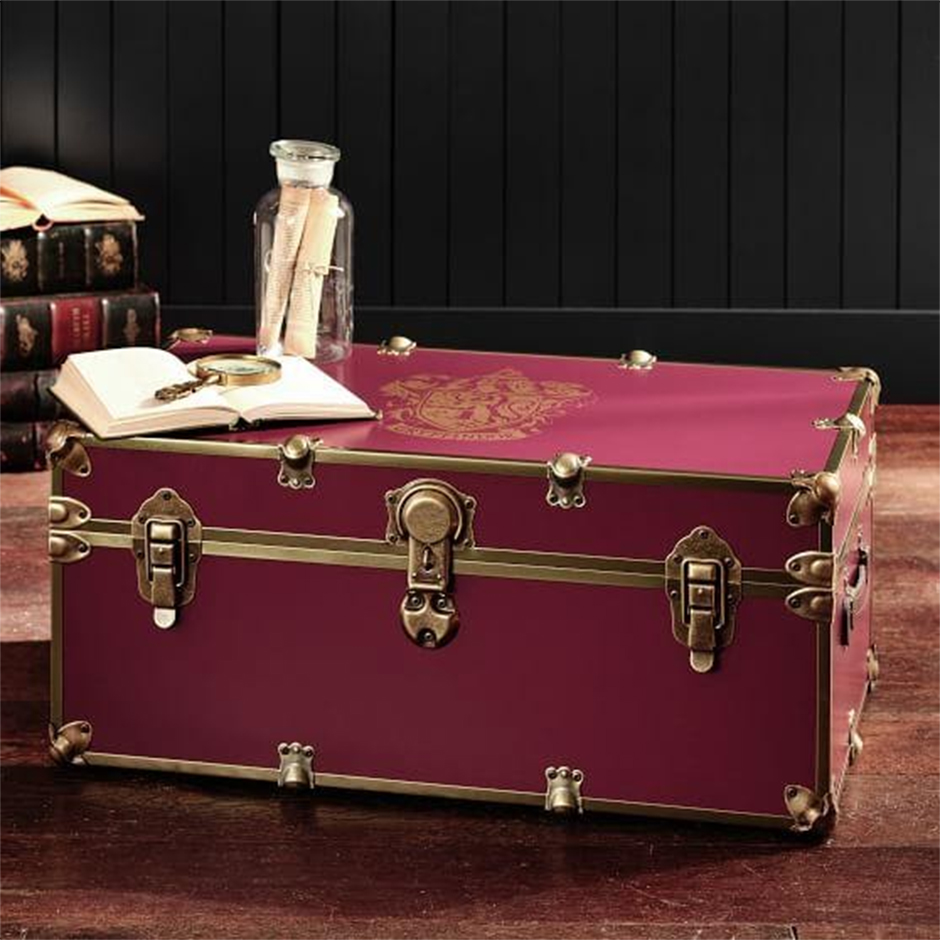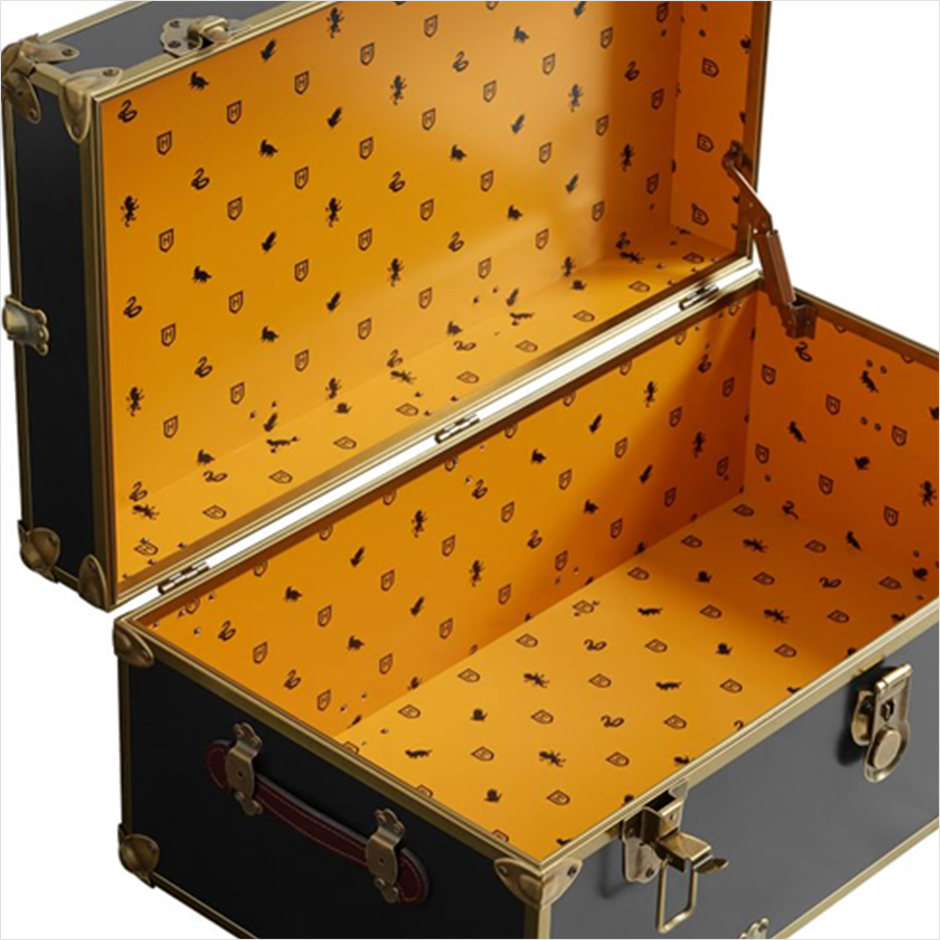 To this day, the trunks are built to perfectly fit a student's or young adult's lifestyle, or even that of a collector. Constructed with a durable birch hardwood frame and brass-plated steel hardware, they can support up to 200 pounds, and are strong enough to be used for much more than storage—such as a sitting bench, a coffee table or a stepping stool. Other features include a soft close lid stay, sturdy leather handles, a magnetic closure, and a padlock loop for keeping belongings secure and protected.

The Challenge – To create a wardrobe trunk fit for the All Stars. When the 2020 McDonald's All American Games were canceled due to the COVID-19 pandemic, the roster of 48 high school seniors—representing the country's top basketball talent—lost their once-in-a-lifetime chance to compete. Had they been able to take the court, they would have been presented with an assortment of McDAAG-branded adidas merchandise upon arriving at the event. Instead, Rhino was asked to help bring the presentation to them for a one-of-a-kind social media wardrobe "unboxing. " Project timeline: 10 weeks.
The Solution – Our team worked closely with Narrative Media Group to design, construct, and personalize 48 individual McDAAG-branded wardrobe trunks, which were then filled with adidas merchandise and shipped out directly to the All Star athletes.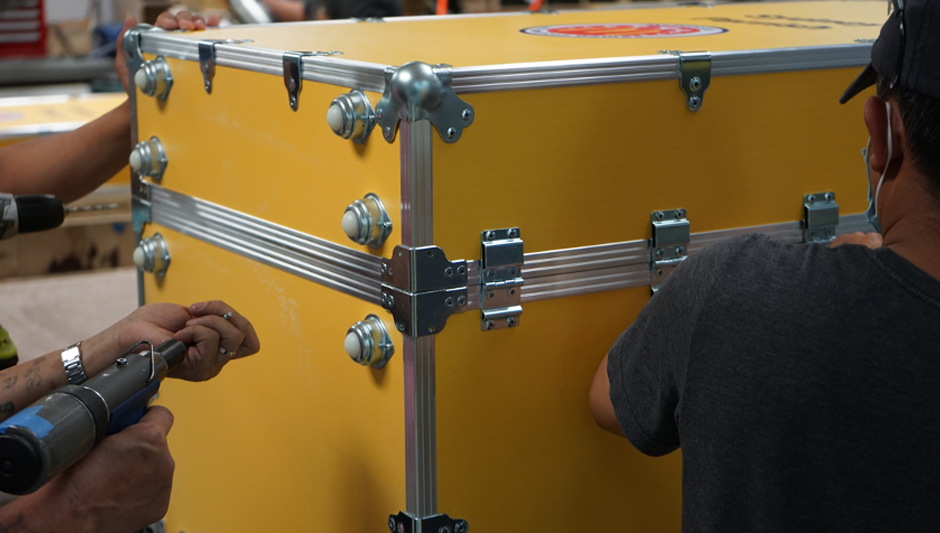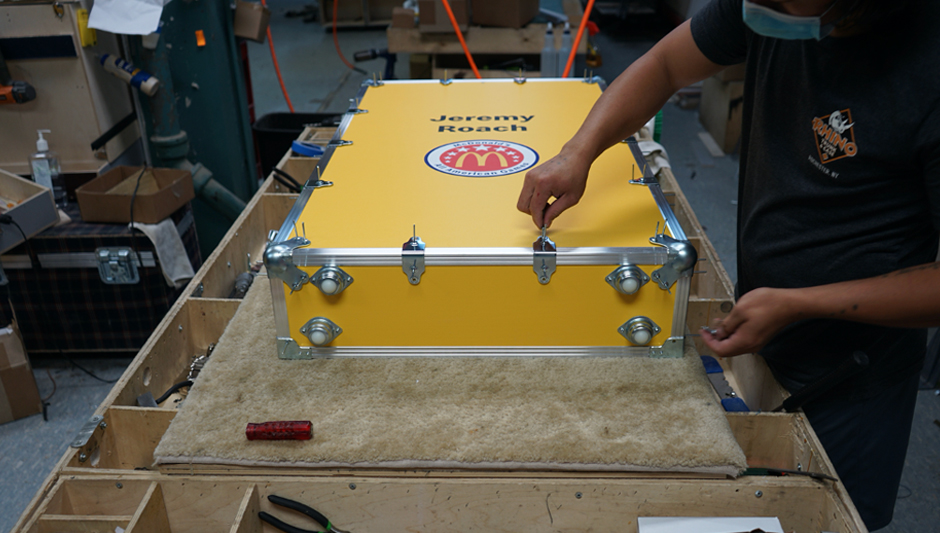 As with all our custom projects, we put a great deal of thought and planning into the design of these wardrobe trunks, focusing on their function and purpose for the players, as well as the overall impact we wanted the presentation to have. The left side of the wardrobe trunk's interior was spaciously designed to fit several pairs of adidas footwear, clothing, basketballs, duffel bags, and backpacks. And on the right side, the player's game jersey was prominently displayed, hanging in front of an image of a basketball court printed directly on the trunk's interior walls. To top it all off, the classic McDonald's yellow vinyl exterior was customized with the athlete's name and the McDAAG logo.
Due to COVID-19 limitations, Rhino was also asked to handle all aspects of fulfillment for the wardrobe trunks. We received almost two truckloads—more than 750 boxes—of merchandise, which was then sorted, folded, and inventoried before the wardrobe trunks were filled with appropriate-sized clothing and footwear. We were even able to leverage our in-house graphics team to shoot all the photos and video footage that McDonalds ultimately used for the project. This is a perfect example of how Rhino can manage a multilayered project from start to finish—through design, manufacturing, and fulfillment.