It's almost summer camp season, and parents are already making plans, lists, and preparations. One of the biggest concerns parents have this time of year is what and how to pack for summer camp. Does your child need one of the camp trunks you've always heard about, or should they bring something like a suitcase, duffel bag, or backpack? Camp trunks are an essential part of the camp experience, both in sentimental value and in practicality. We're here to tell you why.
Standing the Test of Time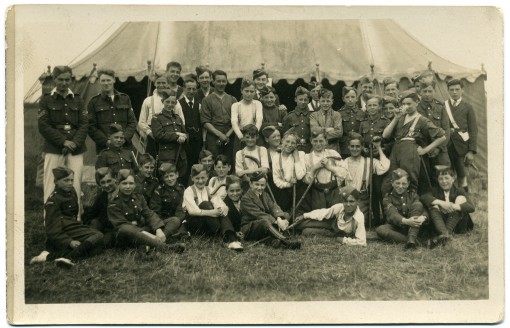 Since the 1800s, summer camp has been an important part of American tradition for kids, teens, and families. Often an escape from the fast pace of modern life, summer camp today is a chance for children and teens to take a break from screens and experience the larger world around them. Summer camps have changed over the years—from various themes and activities offered, to gear and supplies that better suit the modern camper. But there's one iconic piece of the summer camp tradition that's still going strong. And that's the camp trunk.
It's a familiar image that's lasted through the decades: campgrounds teeming with excited campers as they eagerly unload their trunks and roll them to their very own home away from home. Not only is a camp trunk the most practical luggage option in terms of safe storage, durability, and organization, it is a physical memory keeper—a lasting piece that can go with your child through their life.
Advantages of a Camp Trunk
Campers need to pack a lot of clothes, gear, and supplies—and it can sometimes be overwhelming. They need to be prepared for nights away from home, the activities they'll be a part of, and the possible outdoor elements they'll face. They need to make sure their items stay organized, safe, and secure at all times. And many need luggage they can continue to use for years, instead of something that will need to be replaced over and over again. The answer to all of this is, and always has been, the camp trunk.
When stacked up against other options like suitcases, duffel bags, and backpacks, camp trunks are second-to-none. They are spacious enough to keep your child's clothing and supplies tidy and organized in one place, while also keeping them safe and protected. Camp trunks are sturdy, easy to transport, and convenient to stow. They're also multi-functional and can be used for extra seating, as game tables, and as step stools for bunk beds. Camp trunks are so superior in quality and practicality, that many camps actually require campers to have them.
What to Look for in a Camp Trunk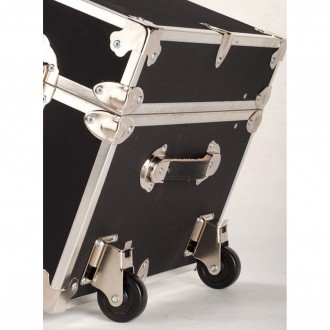 Quality: So you've decided to invest in a camp trunk for your child. Great! But what should you be looking for? Where do you even start? One of the first things to be aware of is the quality of the trunks you're shopping for. Cheap trunks cost less for a reason—many of them are made of particle board that doesn't last long and will most likely need to be replaced season after season. Your child should be able to stand on his/her trunk without feeling any give beneath them. And your trunk should be able to withstand whatever summer camp throws at it (which can be a lot!). Choose a trunk that is made with quality materials—like real, solid plywood and durable steel hardware.
Size: You also want to make sure you choose the right size. Trunks come in a wide variety of sizes, but for summer camp, you need to make sure it meets both your child's space needs and the camp's specific requirements. Contact your camp office to see if they have height restrictions on trunks, and if they require that trunks can slide under the bed, or if they can stay at the foot of the bed. They will be able to give you the best advice based on the available living space on site.
Features: Before you buy a camp trunk, be sure it's designed and constructed with features that help you get the most out of your investment. Features like wheels, locks, packing accessories, and customization options not only make a camp trunk more functional, convenient, and secure, but also more suited to your individual child. After all, it will be their trusted travel companion for many years to come—make sure it's something they love and you're proud of.
Why Choose a Rhino?
All Rhino camp trunks are handcrafted, American-made, and constructed from the highest quality materials and components. You can trust that each and every Rhino trunk is conveniently sized and ruggedly built to withstand any summer camp adventure. With a wide variety of options to choose from—including an array of trunk designs, sizes, features, exterior colors, and custom interiors—there's a Rhino trunk for everyone. All Rhino camp trunks come equipped with easy-to-use steel mounts for removable wheels, steel latches and padlock loops for worry-free security, and even a soft close lid stay feature for ultimate safety and convenience when the trunk is propped open. We know parents have enough on their minds when sending their kids off to summer camp. Rest easy by sending them off with the best possible travel companion—a camp trunk.