Graduation can be one of the most exciting and gratifying moments in a student's life, and at the same time, one of the most uncertain. This is especially true in these strange and unprecedented times—when the looming threat of COVID-19 is keeping so many graduates from their long-awaited and hard-earned milestone celebrations. It's times like these that graduates need our support, encouragement, and celebration most. Physical reminders that their next big adventure is waiting for them on the other side of such uncertainty.
The perfect graduation gift is an excellent way to both celebrate and prepare your graduate for college and beyond—and there's perhaps no graduation gift more timeless, iconic, and practical than a quality college trunk.
Beautiful Gifts That Last
Students have been bringing trunks with them to college for decades. Not only are they practical in terms of safe storage, durability, and organization, but they are also timeless furniture pieces that look visually appealing in virtually any living space. Gifts like money, phones, and laptops are all useful and necessary in their own way, but they are often spent, updated, and replaced before a student even leaves college. Because of their long-lasting quality, a college trunk can serve as a long-term memory keeper—a physical gift that can follow your graduate well beyond their college days and into the lives and homes they eventually start for themselves.
Perfect for the Dorm Lifestyle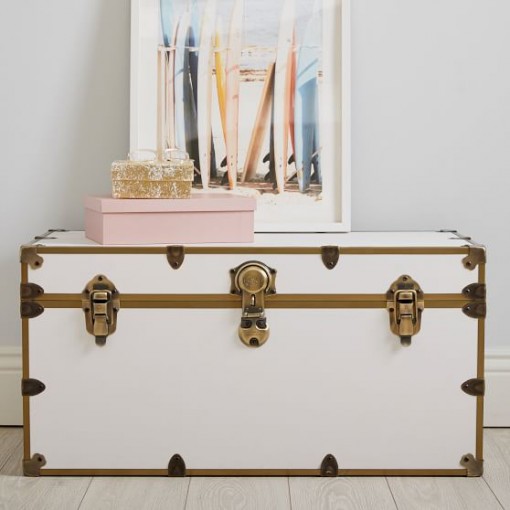 A quality trunk is the perfect multi-functional furniture piece for the unique, multi-purpose aspects of dorm life. A dorm room can serve as a bedroom, a living room, a study space, and a social hangout all in a single, compact space.
American-made Rhino college trunks, such as the bestselling Rhino Armor Trunk™, are second-to-none in quality construction and craftsmanship. Built with the highest quality components, the Rhino Armor Trunk™ is known for its traditional look, and is constructed from genuine Baltic Birch hardwood plywood. Laminated to have a fabric feel, it has a waterproof, dent-proof, and scratchproof exterior. It can support up to 200 pounds, and is strong enough to be used for far more than storage space—such as a sitting bench, a game table, extra study space, or a leg-up to hop onto an elevated bed or bunk.
There are a wide variety of options for college trunks, including Rhino Sticker Trunks™, Naked Trunks&trade, Realtree Sportsman Trunks™, Bedside Cubes, and more. Your choice should be made based on personal preference, color, size, and whether or not you plan to put stickers or decals on your trunk. All Rhino college trunks are top quality, ruggedly built, and extremely versatile to meet your graduate's individual needs and preferences.
Security Solution for Dorm Theft Prevention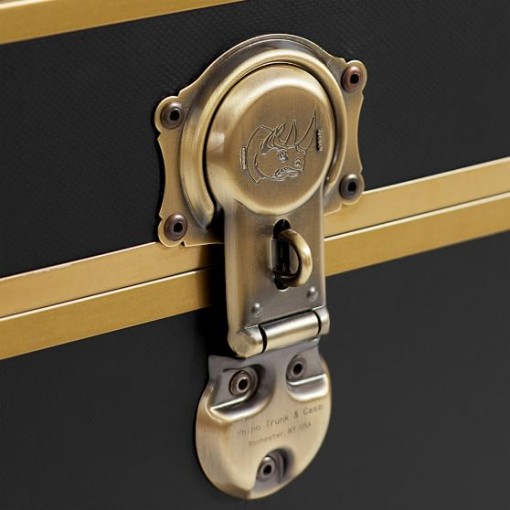 Sadly, dorm theft is a common reality for students, and a problem that's on the rise. According to Campus Safety Magazine, "Common robbery at schools has increased by 10.51%, making schools and universities the second most frequent place [items] are stolen."
Even the most cautious college students fall victim to dorm theft. With roommates who come and go on their own schedules, and a more communal social atmosphere in general, students can't always control who goes into their dorm room. But one thing they can control is keeping their most important items—such as a laptop, a passport, a camera, musical instruments, prescription medicines, money, jewelry, and keepsakes—secure and safely locked away.
Most college thefts involve smaller items that are easily snatched and concealed by peers acting on impulse and opportunity. You can trust that your items will stay exactly where you want them with a Rhino college trunk and its stylish trunk lock and loop that are compatible with most standard padlocks. You can also protect the trunk itself by investing in a trunk anchor cable system for securely tethering your trunk to a bedpost or similar structure.
Why Choose a Rhino?
With Rhino Trunk and Case, you know you're getting the best there is. Over the past 20 years, Rhino trunks have been celebrated for their unparalleled quality, durability, and craftsmanship. No other manufacturer offers as many styles, sizes, and color options. All Rhino trunks are designed, engineered, and crafted with meticulous care and attention to detail in Rochester, New York. From visual aesthetic to physical durability, Rhino trunks are equipped and ready to join your graduate on their next big adventure.